What is ERP?
Why is ERP necessary today?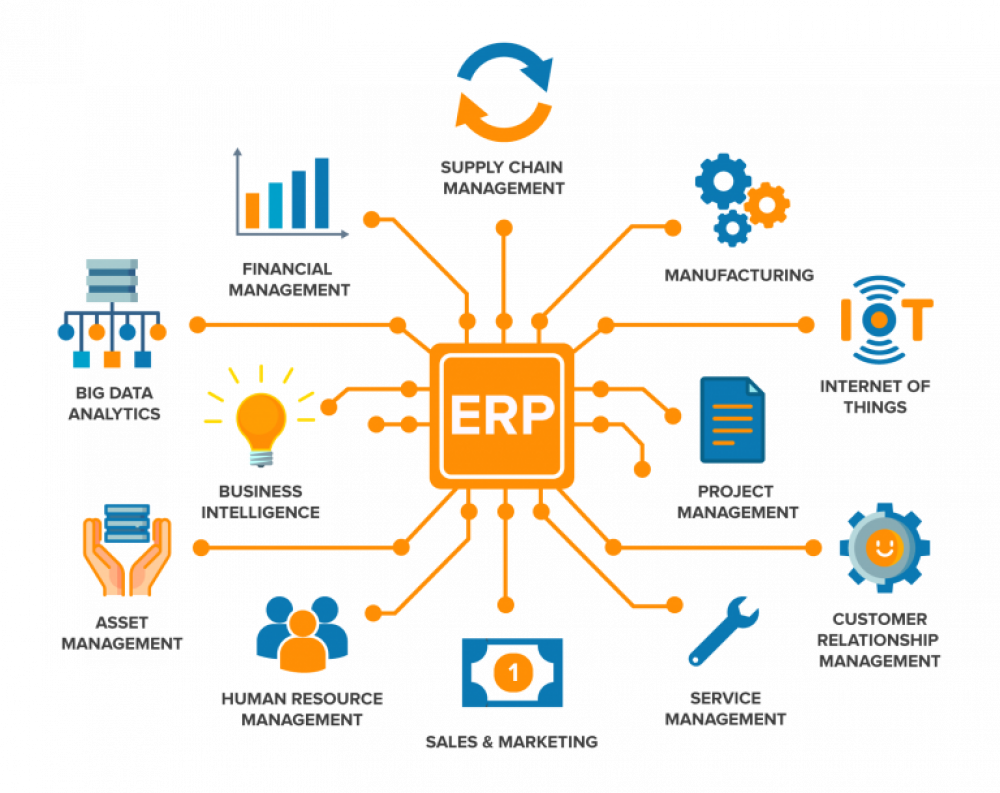 Enterprise Resource Planning (ERP) is defined by Baltzan et al. (2013), as "a single IT system used by businesses in integrating information and functions in different departments so that employees have access to real-time information to accurately make a business decision."
ERP has two major components:
(1) A central database, the heart of the ERP, is where the information is gathered and then transmitted to modules. When a user changes any information in one module the whole ERP system is updated.
(2) The ERP application with its various modules. The evolution of ERP started in the early 90's with its original purpose was for materials requirements planning (MRP). It has evolved in the 2000's to include warehousing, distribution and order entry. In addition to its previous intended uses, ERP system now currently includes financial management, sales and marketing management, purchases management, inventory and warehouse management, project management, knowledge management, workflow management, human resource management, portal capability and integrated financials. And most importantly are Cloud Based.
Baltzan (2013) also emphasized that ERP can be further divided into core ERP components which are included in a traditional ERP component and is mainly used in internal operations and extended ERP components which are additional components that are not in the traditional one and mainly used in external operations. The core ERP components include Accounting and Finance, Production and Materials Management and Human Resources. Business Intelligence, Customer Relationship Management, Supply Chain Management and E-business are included in the extended ERP components.
Who is it for?
ERP is integrated into the organization's supply chain seamlessly; an ideal system is tailored for all roles within the organizational structure. ERP improves decision making for all entities in every sector and industry; whether it is a private, public or a non-profit organization.
How does ERP work?
ERP systems work via a central database. It has three different deployment options; either cloud, on-premises or a hybrid based on the sector's needs. ERP is a software that can be accessed either through a laptop or desktop workstation.
Why is ERP necessary today?
ERP systems are used to help businesses of all sizes overcome challenges whether small businesses or massive enterprises. Early business practices may no longer keep up with growing demand and require more efficient business tools, like ERP, to effectively manage a business's systems and resources.
ERP software systems provide many benefits to the health and growth of a business.
8 Benefits of ERP Systems
Cost savings and improved ROI efficiency. Increased productivity and efficiency as a result of the integration and automation that ERP software provides.

Improve business insight. Improve decision making with a single aggregated source of truth and real-time data.

Manage Regulatory Compliance. Manage and monitor compliance with regulatory standards, and even set up alerts for non-compliance.

Mitigate and reduce risk. Automate core business operations, manual tasks, and reporting. Reduce human error, and free up employee time and resources.

Enhance collaboration. Break down communication barriers for efficient collaboration and coordination to improve job efficiency.

Improve supply chain and distribution network reliability. Use demand-driven MRP to forecast supply and demand and prepare for fluxes in orders and supply chain.

Scalability. Consistent infrastructure for streamlined operations can grow as your business grows.

Optimize customer and partner management and service, customer relationship management, as well as, partner and supplier management with insight from seamless shared information.
History of ERP
1913: An engineer named Ford Whitman Harris developed the Economic Order Quantity (EOQ) model, a paper-based manufacturing system for production scheduling.

1964: Toolmaker Black and Decker adopted the first Material Requirements Planning (MRP) solution that combined EOQ with a mainframe computer.

1970s-1980s: Computer technologies evolved and concept software handled business activities outside of manufacturing, including finance, human resources data, and customer relationship management (CRM).

1983: MRP II was developed and featured "modules" and integrated core manufacturing components, and integrated manufacturing tasks into a common shared-data system.

1990s-2000s: Gartner Group coined the term "ERP" to differentiate from MRP-only systems. ERP systems expanded to encompass business intelligence while handling other functions such as sales force automation (SFA), marketing automation and eCommerce.

2000-2005: Cloud-based ERP software solutions arrive when ERP software makers create "Internet Enabled" products, providing an alternative to traditional on-premise client-server models.

Today: Software-as-a-Service (SaaS) and Anything-as-a-Service (XaaS) offer new delivery models for ERP. Remote web-based access for cloud ERP solutions provides mobile solutions, security, and integration with the changing industries and smart technologies, including integrations with the Internet of Things (IoT), Internet of Everything (IoE), and even social media to provide comprehensive solutions for every industry.
Future of ERP
Despite many accounting tasks being automated, accounting professionals will never be replaced by technology according to Accounting Today. As the industry publication notes, "technology simply cannot — and will never be able to — solve on its own" the client problems addressed by accountants. In fact, accountants in the future will have the opportunity to develop more advanced skills so that they can increasingly serve as business consultants and strategic partners as opposed to simply financial experts.
Choosing the Right ERP System
Does the ERP software/vendor that is being considered:

Meet your system requirements?

Meet/align with company/organization goals?

Integrates/compatible with current existing systems?

Have partner Network/Availability for local support?

Offer training/support options?

Is the implementation process fast and straightforward?

Have references and recommendations from customers?

Continuously improve and develop to utilize new technology and adapt to challenges?
Why Bisan?
30+ Years of Excellence.

A Fully Integrated ERP Solution Serving the Current and Future Needs of Various Sectors.

10,000+ Using Bisan Solution.

Web Applications Available Anytime… Anywhere.

Zero Investment in Hardware.

International Market Presence.

Licensed in Many Regional Countries.

Continuous Upgrades at No Additional Cost.

Fast and Comprehensive Implementation.

365 Days Support Availability.

An ERP Specifically Designed to Meet Today's Challenges.

A Modular Seamlessly Integrated System with a Single Point of Entry.

Adaptable to your Own Business and Industry Needs.

100% Secure Access to Real Time Information.

Cloud Based.

Redundant Sites.

Multi-Layers Security.

Available in Seven Languages.

Optimized Decision Making.

Reliable.
References
Business Driven Information Systems 4th (fourth) Edition by Baltzan, Paige, Phillips, Amy published by McGraw-Hill/Irwin (2013)